Project - Innovate Dementia
Competency coverage
Overall reflection
Self-directed and Continuous Learning
Ideas and Concepts
Form and Senses
Integrating Technology
User Focus and Perspective
Sociocultural Awareness
Designing Business Processes
Descriptive and Mathematical Modeling
Teamwork and Communication
Design and Research Processes
Legend: bold = related to individual part of project.
Feedback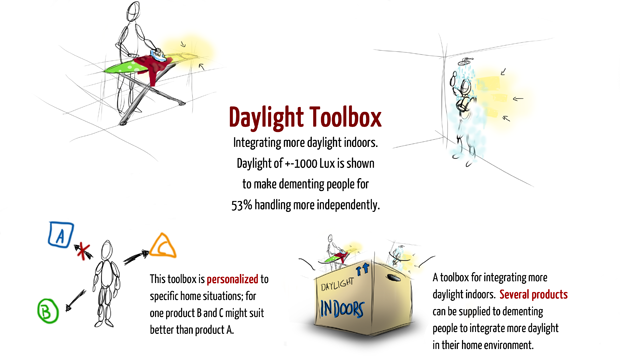 Overall Reflection
The project "Innovate Dementia" is about keeping the dementing people at home longer. This means that for this project something has to be designed that would help the dementing at home or to keep them active in some way. The goal is to postpone the moment that they have to go to a care institution. It is an important issue to tackle, since the number of people with Dementia is rising every year and the costs for both the health care sector and the patients can be reduced by making them stay at home longer.
What we designed was a daylight toolbox. The idea is to support the dementing people in a daily activity, and integrate daylight with this activity by making utensils for these activities emit light. This would be more effective than having light therapy as an activity on its own, as it is spread out over the day as well as more enjoyable to do. This will result in better endurable daylight therapy. We were inspired by a research article from Eus van Someren. He researched the effect of daylight on dementing people. It turned out that the participants had a slower decline in cognitive as well as a slower decline in functional behavior with the rate of 53%.
My expectation was that I had to do this project on my own. But I once again had to do a team project. All in all, I think this was better for my personal development. The competency areas I developed the most were User Focus and Perspective, Socio-cultural Awareness and Teamwork and Communication. I had some PDP goals that were related to becoming more assertive as well as pro-active, and a team setup was better for fullfilling my goals than an individual setup would be. Besides, I took a task upon me to become a team leader and I learned a lot from that. I have to say that I indeed became more assertive and more pro-active.
Through the course of the project I acted more pro-active as in that I hesitated or postponed tasks less than I did before, as well as having a more pro-active attitude to others. I also did things I felt quite insecure about. There even were moments I stepped out of my comfort zone. This was one of the remarks I got from my last assessment. My assessor advised me to step out of my comfort zone.
The project report can be found over here.
Feedback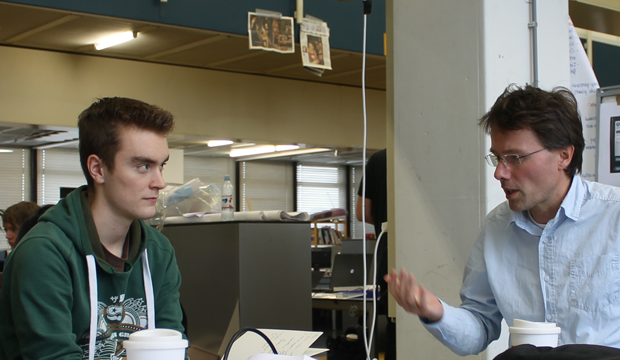 Self-directed and Continuous Learning
In the project I learned how to reflect on activities in a different way. For example, I now don't just reflect on what I actively learned during the project, but also some intrinsic values that appeared during the process. I for example visited a talking group for dementing people where I had planned a co-reflection. But it turned out this co-reflection could not be done.
Instead of learning from the activity itself, I found out the event helped me realize some things I did not realize before, especially for other competency areas than I aimed for directly. I learned something for Socio-cultural Awareness as well as Form and Senses and Ideas and Concepts, while initially I was really disappointed by the event. These finds were done by taking a look at the process from a distance and seeing the overview. The feedback from my coach is partially about my good attitude and my skills in this competency area. She thinks that I developed this competency area substantially. Seen my first two semesters, I think this is true.
Besides, I maintained a reflection on a weekly basis. This really helped for keeping hold of the overview, as well as gaining awareness over my learning activities. I found that this also made it easier to connect learning activities to each other and relativize it to earlier learning activities. One thing I might improve on my reflections, is that I would write down the time and place of the activity. That would come in handy later on for reporting and keeping a more exact overview.
Feedback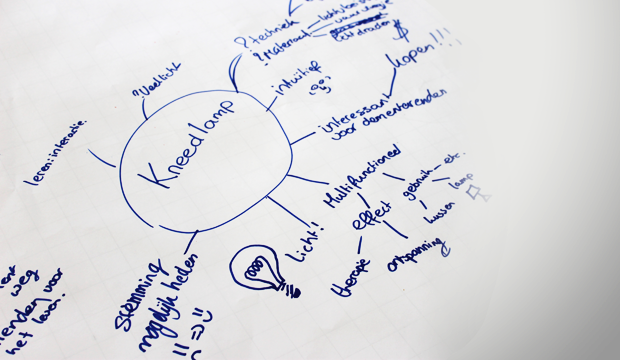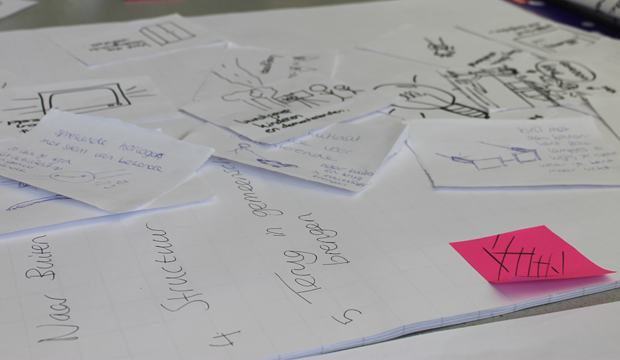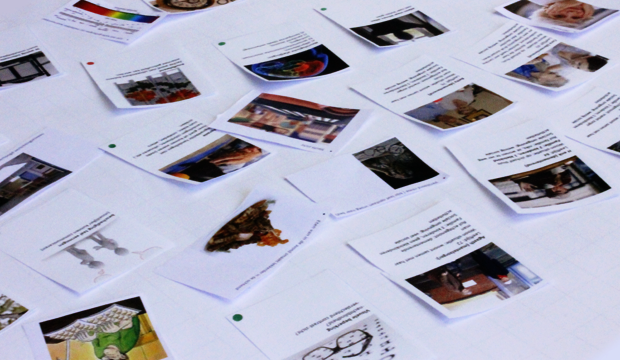 Ideas and Concepts
During the project we as a team did quite some iterations on idea generation and concept development. It turned out that it was quite hard for me to come with ideas. But from the iterations I learned that I should get inspiration before generating ideas and not pressurize on the idea generation. The organized idea generation sessions, where there would be taken time for creative warm-up and for the session itself, worked out the best for me.
I learned that when I applied the creative warming ups that I learned last semester (B1.2, workshop "Creatief Denken"), I was more able to generate new ideas. Besides, the iterations that I did with the team were pretty helpful for me. It showed me some examples of techniques that I think I can apply in the future. Another stumbling block was the research. We would have benefited from combining our research with the idea generation. This would lead to more inspiration as well as a more guided idea generation.
Feedback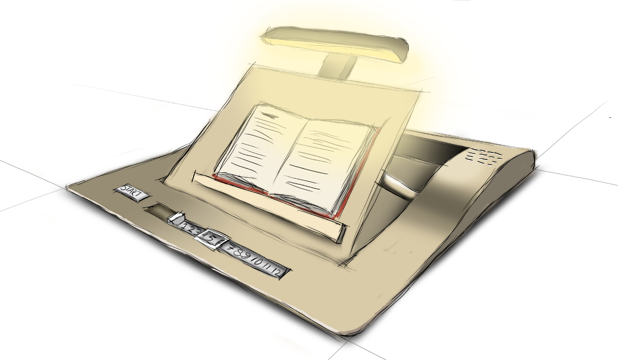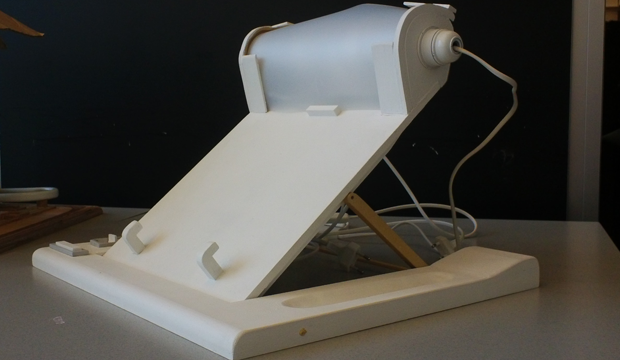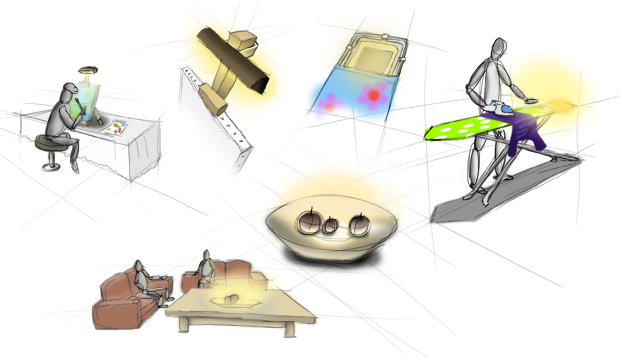 Form and Senses
Activities for this competency area regarding the project mostly were in the visualization of the concept. The final concept had to be presented, and visualizations would support the presentation. This way, I practiced my sketching skills. A team member of mine worked on the actual shape, and we got feedback on this actual shape by our coach. She said that the actual shape differed from the sketch in such a way that the sketch looked better. For some reason the sketch looked like more of a desirable object than the actual shape.
The concept was a bookstand, so the shape we both designed (either me and my team member) had to have this form-factor. My sketched shape looked flatter and more elegant. The flat but wide shape would have a sleeker look and feel than the somewhat thicker and smaller shape the actual prototype has. I did not have anything to do with the actual shape building, but that is what I learned from it. Here it was about what impression the shape would give. In that case it makes my designed shape more desirable than the shape of the actual prototype. Besides, a user must be comfortable with the shape. The target group of our project was quite vulnerable for changes in close environment. Any unrecognizable or unknown object would be confusing. The challenge here was to design something the users were familiar with.
Feedback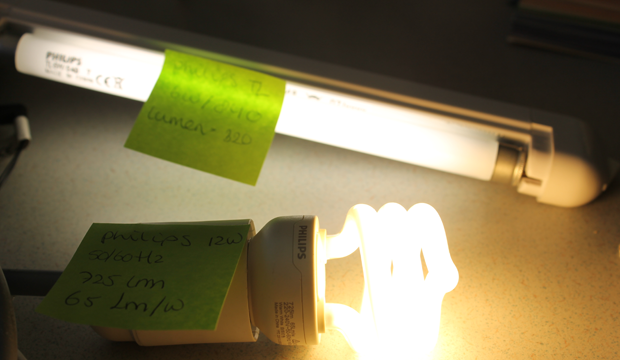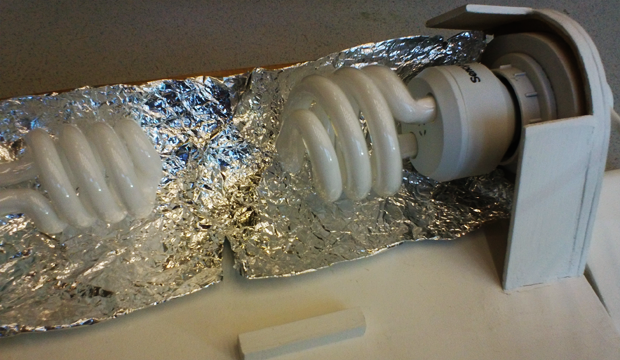 Integrating Technology
For this project I did not do so much Integrating Technology. Most of the activities that focused on this competency area were research to what technologies would be most suitable. There I took part of small brainstorms for what would be possible.
Sometimes during the design process, we faced some limitations concerning the technologies. For example, we had to determine the light intensity that would give the desirable effect that daylight has. The physical distance from user to object as well as the size were limitations, but the size of the daylight lamps was another. But still, with some research it turned out the daylight lamps could also be composed of LEDs. This opened all kinds of possibilities, and showed to me that benchmarking for technologies is quite effective. So I learned that sometimes integrating technology has limitations, but also unexpected possibilities. The key is to find out what is already possible.
Feedback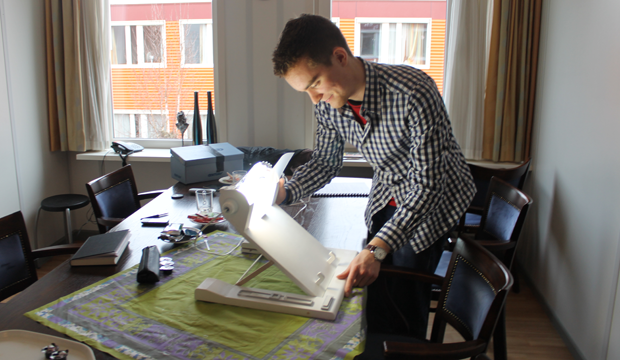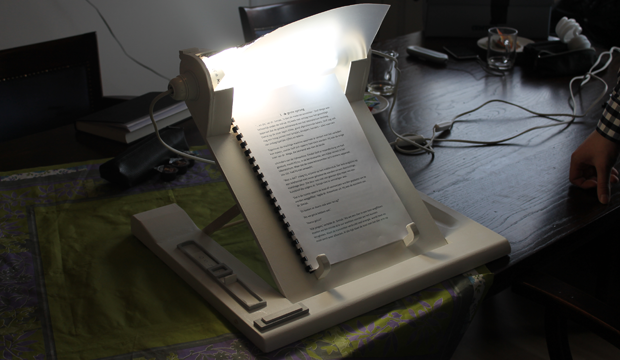 User Focus and Perspective
User Focus and Perspective was one of the competency areas I wanted to apply in this project more than I did in the other projects. Besides it was my individual part of the project. It turned out to be quite a challenge to get in touch with the target group. The promised engagement throughout the design process with the target group from our client was a misunderstanding, and I could not rely on that. Instead, I had to look for alternatives.
What I learned pretty well, is that arranging user tests can be quite hard. Having regular contact with the target group from the start is quite helpful. I lacked this, which made it harder to arrange something as I was a stranger to them. I found that talking with experts if the target group is vulnerable or hard to approach is a good alternative. I got feedback for the concept already by talking to experts.
While arranging, I also had to make a user test plan. At first, I did this with a team member who already had some user testing experience. When I talked with a master student and a coach with user test experience to validate this setup, I got useful feedback and tips about the target group and user testing. The coach showed me ways to gain quantitative information in an objective manner, the master student showed me a way of gaining qualitative feedback from the participants. I decided to put the emphasis on the qualitative feedback, but I combined it with the quantitative information gathering. The qualitative feedback would give more valuable information on the aspects of the concept, and since it was just a small group (six people), I did not have a representational sample of information if it were only quantitative.
During the user test it turned out that the setup would have taken too much time. I learned that the setup needs to be flexible to some extent, because it cannot always be realistic. For my user test setup it meant that the time it would take would be too long, but also take too much effort for the dementing people. In this situation, it is good to adapt the user test as well as have some alternatives at hand. I learned that one should be able to switch fast and be prepared to gather the information in a different way than planned. It should be clear what one wants to find out with the user test, so the results are easier to interpret.
Feedback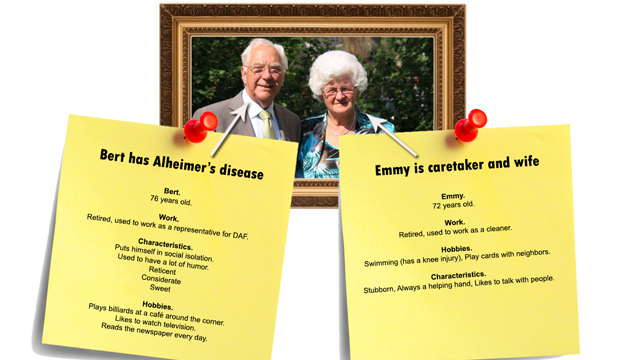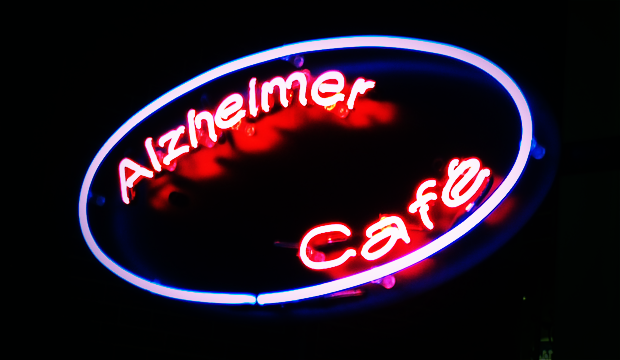 Socio-cultural Awareness
Before this semester, I already learned a lot concerning this competency area. But during this project, I still learned quite some new things for this competency area. First of all, the target group was new to me. I never dealt with dementing people before. From how coaches, care professionals and team members with experience with dementing people talked about them, I learned that this group is quite vulnerable to confusion. Special care has to be given when being in touch with them.
By making personas I got more understanding for this user group. Besides, by visiting the Alzheimer Café twice, I got the opportunity to talk to people with actual experience with dementia. We talked about their daily lives as well as problems that bothered them. This shaped my vision on the disease as well.
When arranging user test as well as conducting it, I found that not only the target group is vulnerable to confusion, but it is also protected as such. I contacted our client and some other care institutions for user testing as well as the Alzheimer Café, but most of them were denying access to the target group. This first made me feel let down by the client for not living up to their promises. But when I took a closer look, I learned that it was a communication problem. The expectations from both parties were entirely different. I wanted to user test, but during the talking group I visited, it was not allowed to do extensive testing. The talking group also had more of a setup for introducing concepts instead of actual testing. This shows to me that it takes some effort to make the target group understand what you are aiming at. They need to know a big part of the story to get the overview. Besides, the expectations and promises did not match. This also made me realize that it can not be taken for granted that one understands or interprets agreements and appointments like you do.
I learned that dementing people require extra attention when it comes to explaining abstract things like a concept. They have an entirely different way of perceiving the world, due to the different zeitgeist but also because of the disease. At the talking group the concept remained abstract and thus hard to explain, since we did not have anything tangible to show. But during the user test we brought a working prototype. This spoke more to their imagination and sparked more feedback and input.
Feedback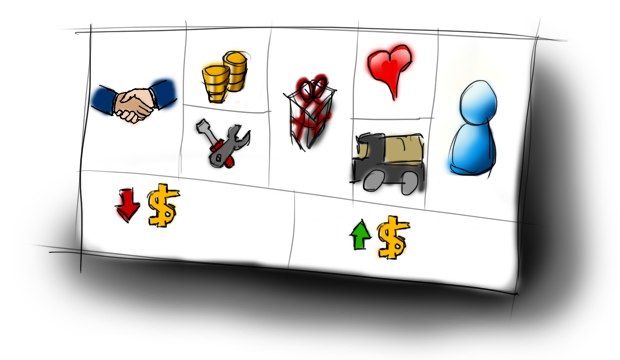 Designing Business Processes
As well as for socio-cultural awareness, I learned quite something for this competency area already. During the project I did not take action for this competency area, but a team member (Isabelle) did. She made the social business model for our concept. As she discussed her progress with the rest of the team, I gained more insight in how a business model could take the stakeholders into account to a bigger extent.
A business model is about costs and revenues, about stakeholders and customer segments, about what values one has to offer and channels one uses to reach the customers. But in this context it is also about what effect your product or service would have on your stakeholders or on a problem that stakeholders face. How would it be interesting for them to work with you? How would it be interesting for the customers to use your product or service? For bigger stakeholders or institutions it is mostly important to be able to indicate how your product or service impacts society, as was the case for GGzE. In this project that means how the problem with overcapacitated health care as well as rising costs for any stakeholders is addressed. Isabelle combined two approaches, the Business Model Canvas and the approach described in the book "Innovation Design" by Elke den Ouden. I was only familiar with the former approach and gaining some insight in the latter approach, I also understood more what was meant with stakeholders and how the impact on society can be useful in your planning-ahead as well as your value proposition.
Feedback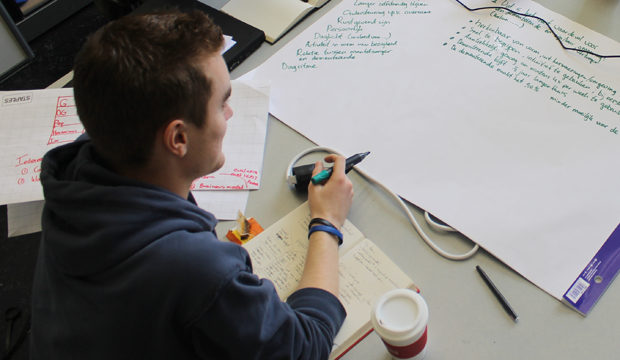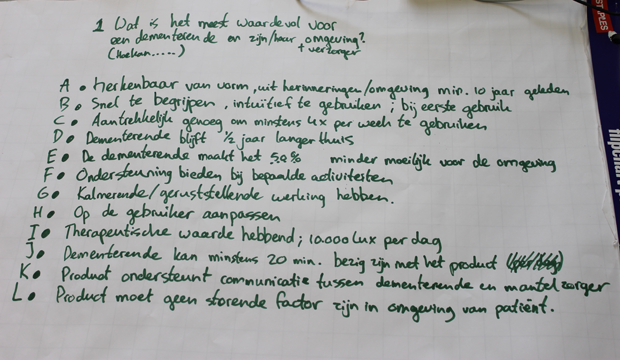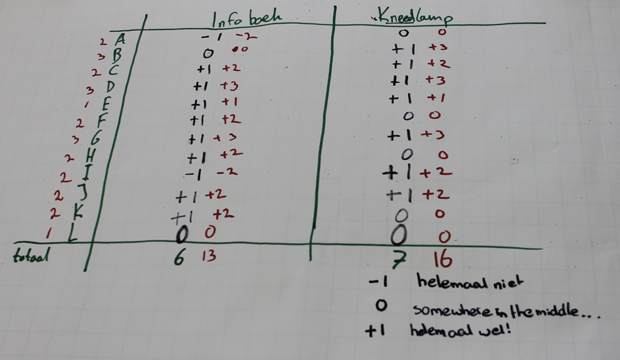 Descriptive and Mathematical Modeling
Activities for this competency area were important for our decision making as well as for visualization. And that is basically what this competency area is about. We did a QOC-analysis (Questions-Options-Criteria analysis) for choosing a concept to elaborate on, to find out which of the concepts would fit the best for our goals and criteria. Here I learned that descriptive and mathematical modeling is handy for tackling a complex problem. It gives one an overview of the problems or requirements, which makes it easier to tackle the problem at its roots.
But descriptive and mathematical modeling is also handy for visualization. Because we would be able to spend some budget from the project's organization, we had to make clear how the rest of our design process would look like, and what our plans were. Because we had to combine several individual agendas and goals, we had to make a model of what we were planning to do. Descriptive modeling resulted in a budget plan, as described in the project report. With this model, we were able to lay out clearly what we were planning to do, as well as explain what the potential expenses would be.
Feedback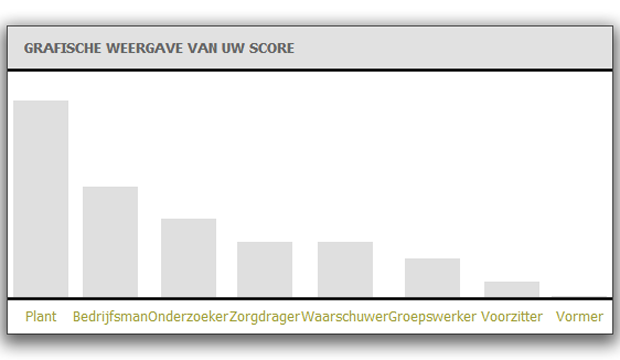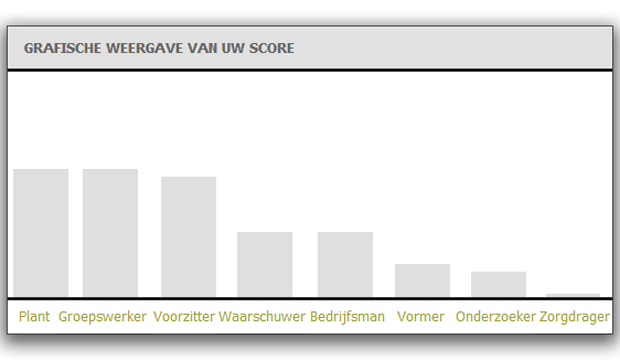 Teamwork and Communication
Since I worked in a team, this competency area was pretty important for me this semester. But not only because of that, also because of my PDP goals.
I found that because of the Belbin teamroles test we did, we all had a better view on what we could expect from each other while working in a team. My result was that I was a plant, which means that I am creative, but that a weakness of mine is communication and criticism (see results Belbin test). I took that into account during the teamwork. The teamwork went pretty well, and we had good communication with each other about our process. Besides, I took upon me to be the team leader, from which I learned quite some things. First of all, it is about getting the overview of what everyone is doing. Then there is deciding upon what to do next. But there is also the engagement with the team members, as I tried to get hold of the relations inside the team, and tried to keep a positive atmosphere in the team. Mostly it was alright, but there were conflicts where I was the person my team members talked to. I tried to give an objective view on the problem every time, and that sometimes worked. I found that I am also changed in personality. I am much more of a team player as well as a team leader now. I dare to speak out more and also wander off less (see results Belbin test). The feedback I got from my coach was that taking upon me to become a team leader was a good choice. Against my nature, but very helpful learning experience.
Feedback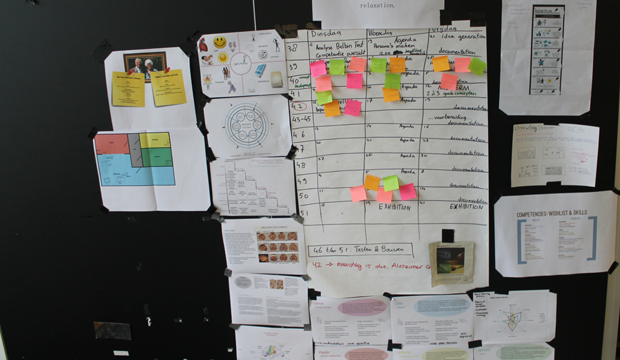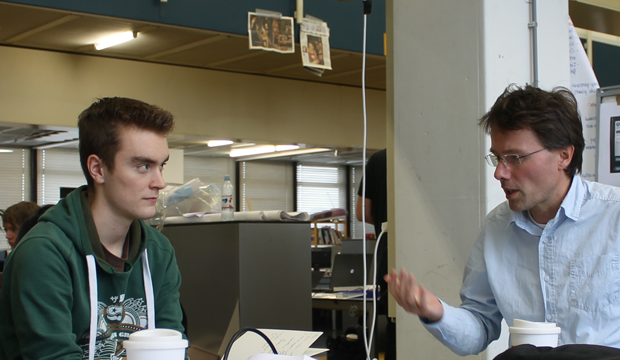 Design and Research Processes
Concerning the design process, I learned that keeping the overview of a team design process is pretty complex. Because of my role as a team leader, this was desirable though. Having done 3 semesters of Industrial Design, there is still something to learn here. We began the semester with a pressure cooker (after the project briefing at the client), then we did research to the target group for finding out our aim for the project. Then we generated ideas. This took quite some time in the project, and I think it took too much time of the process. But the iterations we did made our idea stronger.
The problem was the uncertainties we had with the target group. It made us take too much time for the idea generation. We wanted to be sure of everything, and fell back on doing research most of the time. For some uncertainties this was okay, but most would have been more effectively tackled by taking assumptions. In the end, these assumptions would need validations, but would speed up the design process quite a lot. I am a designer after all, not a researcher. This was also stated by Harm van Essen, whom we talked with about the concept development.
Assignments/Academic Development
Assignments/Academic Development
Designing Visual Information
Mathematics of Sound
Academic Development: Risk Society
Feedback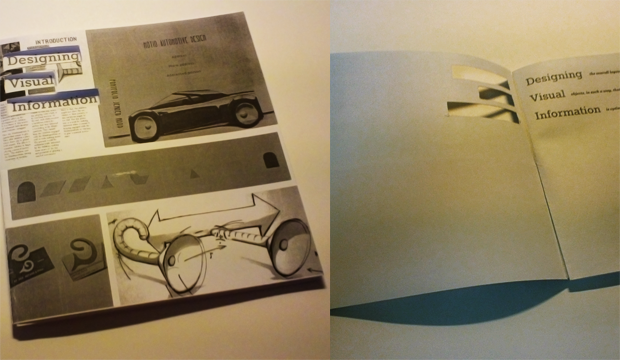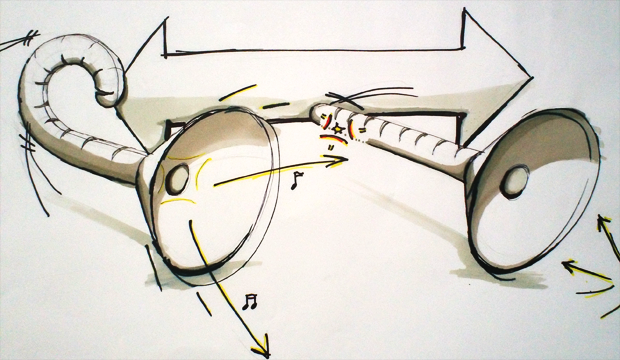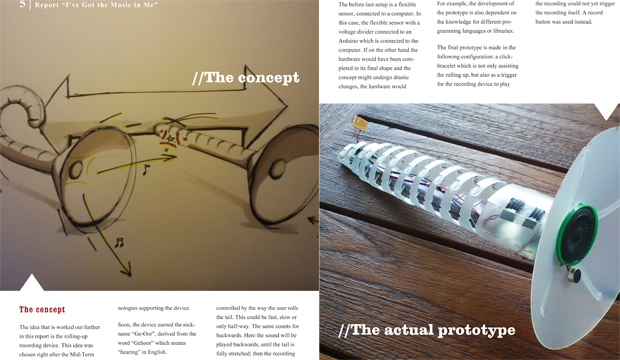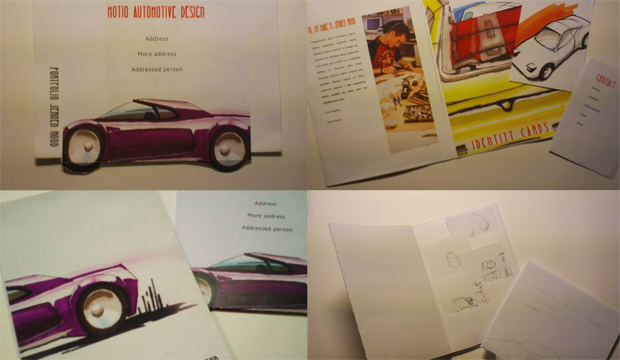 Designing Visual Information
This assignment is about designing an information setup more visually, as well as about laying out information optimally and how layouts work. I learned principles of designing visual information and put these into practice. Besides I learned to look critically to my own and others' creations.
Throughout this assignment I developed my insights for graphic design. I learned some more about composition, typography, integrating corporate styles and the narrative. I found the topics both interesting and applicable for my development as a designer, as well as for me as web designer. Concerning competency areas, I think Form and Senses as well as Teamwork and Communication are mostly covered here, since I learned a lot about how to give form to graphical designs and pieces of information. Besides, by iteratively pitching the homework, I improved on my pitching skills.
I found that some topics helped in giving me insight into how someone looks to your graphical design. For either explaining the project, creating user manuals or for my website designs. I found that this narrative element of graphical design gave me insight in the audience the graphical design reaches. The questions to ask are: How much does the audience already know about your project? What and how much do they want to know? I think this is related to User Focus and Perspective.
I can say that this assignment helped for my PDP goals as well. I improved my pitching skills, and I learned to work with Adobe InDesign.
The main feedback I got was that I did a good job delivering homework with a decent quality. However, he had a remark for me on constructing a portfolio. He told me that I should make the portfolio more concrete. My final deliverable -a combination of a portfolio and a report- was more concrete than the first iteration, but contained a bit too much of everything. The assignor advised me to keep it simple, and not combine too much styles and ideas in one design.
Feedback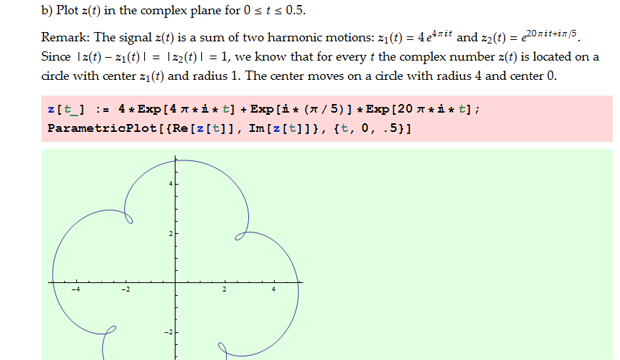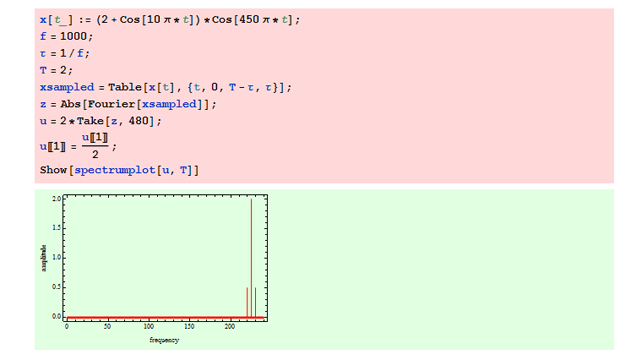 Mathematics of Sound
This assignment was about the competency area Descriptive and Mathematical Modeling. But I found that because of the amount of math in the material, that it was more solving exercises than explicitly learning what the competency area is about. Initially I was not able to find how it related to my development in the designer's competence. But then I found that I should look to the bigger whole. It was a slight shift in view on my learning activities, which can be related to Self-Directed and Continous Learning. I found that while analyzing the exercises, I tried to see connections and patterns, and that is what the competency is partially about.
Next to that, studying math material required me to look differently at the material than I normally do. Instead of capturing the overview, I had to look for patterns and connections with earlier studied math rules and material. The assignment was mostly about this analysis of complexity for the competency area Descriptive and Mathematical Modeling.
The feedback I got here was that I did a good job in analyzing the problem of the exercise and succeeded in solving it. But the assignor would have liked to see a more elaborate analysis, that would go more into detail.
Here an interactive example of the exercises can be found, the final exercise.
Feedback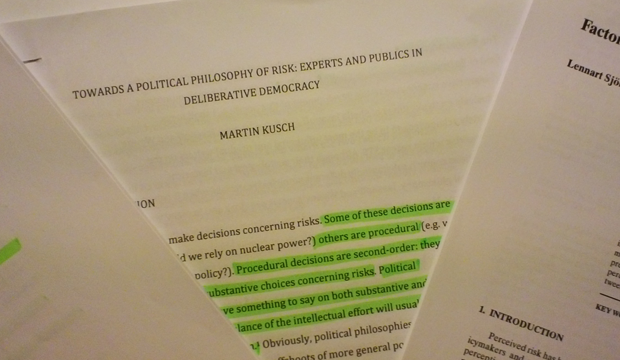 Risk Society
Academic Development means that we need to choose one of three obligatory courses that would help us develop at academic level, and I chose Risk Society. I chose this one because I thought it was the most interesting one. I thought it also applied to my project the best, since as a designer, we also need to take into account risk as well as risk perception. What do people think of your product? Do they take risks if they need to for using your product? What is their perception on risks that could influence the product your designing? I wrote an essay on why paternalism (exclusively letting authorities or scientists make political decisions under risk) is an inadequate political theory of risk. I got the feedback that my essay showed that I had a decent understanding of risk theories and risk perception. A point of improvement was that I would go more in depth on certain aspects and arguments.
Competency Development
Competency Development
Legend: dark = past development, light = current development.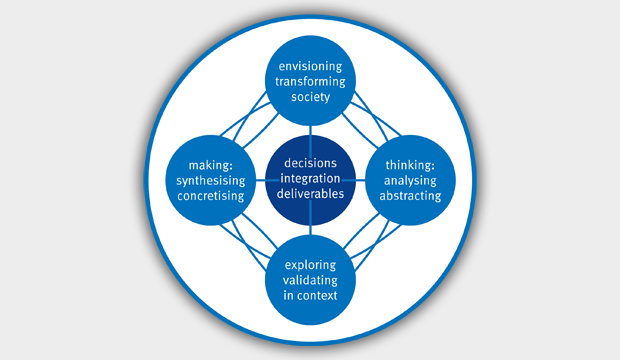 Overall Development
All in all, I think I developed all the competency areas to an extent that makes it a good semester. I did quite a variety of things. These can be linked to the drives and strategies on the process view.
For Envisioning and Transforming Society, the goal of the project as well as the development of our vision and our concept during the project were important. The goal of the project was to develop something that would have an impact on society in the extent that it would make the dementing people stay at home longer. This goes further than the effect it has on the dementing person, as it has effect on society -mainly the healthcare- as well. Transforming society took place in the project goal, which was tackling a problem in society -over capacitated healthcare institution due to the amount of dementing people- by its roots, namely the dementing people themselves and their home situation.
Exploring and Validating in context took part in our process as well. We did research on the target group and on what the disease was all about. My individual part of the process, User Focus, also focused on validating in context. I had to validate assumptions we made during the design process. I did this by talking to care professionals and by testing our concept on the target group.
I think the empathizing with the target group and the descriptive modeling during the project as well as the work for the assignment "Mathematics of Sound" are part of Thinking: Abstracting and Analysing. Here it is about making models, working with models and creating an abstract overview of a problem. This was the case when we were designing for the complex target group, the dementing people. Because the disease is so personal, it was required to get an overview of what problem we wanted to design for. Besides, we made descriptive models for our project that analyzed the problem and the criteria that were linked to it (the QOC-analysis and the budget plan, see the project). By making exercises for the assignment "Mathematics of Sound" I had to analyze the objective of the exercise and had to find out how to solve the "problem" of the exercise.
Making: Synthesizing and Concretizing comprised for me of what I did during the assignment "Designing Visual Information". I made all sorts of mockups for the exercises of each week, for example a poster, a corporate identity or portfolio design. These were all physical representations, so I had the chance to experiment with the shape as well as with the presentation, the miscellaneous of the mockups I made. But I also made sketches for the concepts that were developed in the project. These represented what the entire concept would look like. Of course the concept development during the project can be included here as well, since it is concretization of the solution we developed for the design process.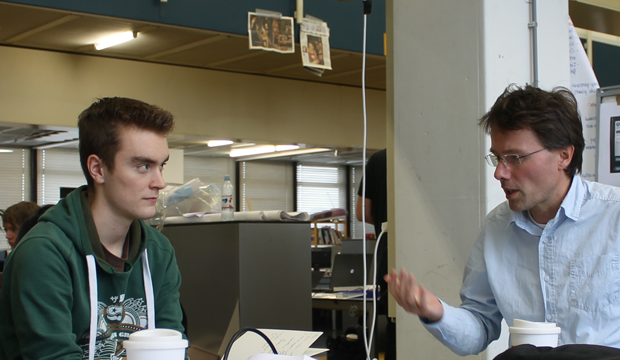 Self-Directed and Continuous Learning
For this competency area it is important to reflect on your learning activities and see the big overview. I feel that I have a better overview on my learning activities and on the links with the competency areas than I had before. Besides, I became more proactive towards the activities. I not only know much better what to do, but I also find it easier to switch fast and perform the tasks faster. Harder tasks like contacting people, choosing the right learning activities (even if I feel insecure about it) became easier and I hesitated less compared to last semesters when it comes to this decision making. All in all, I handled all activities far more pro-active. I think I also gained more confidence in choosing the right learning path. I was already able to choose the right learning activities, but now I can link expectations to it, and I am more than ever able to think critically over my development. With the right goals, I now also don't hesitate anymore in taking action.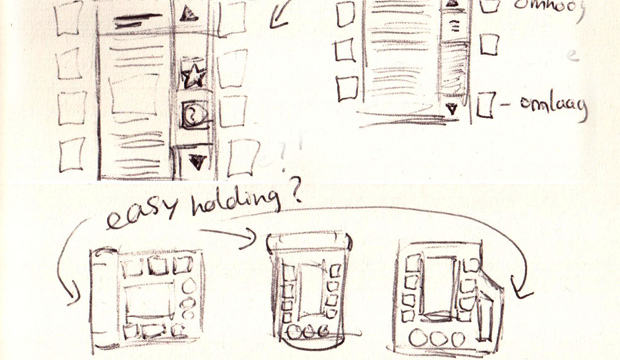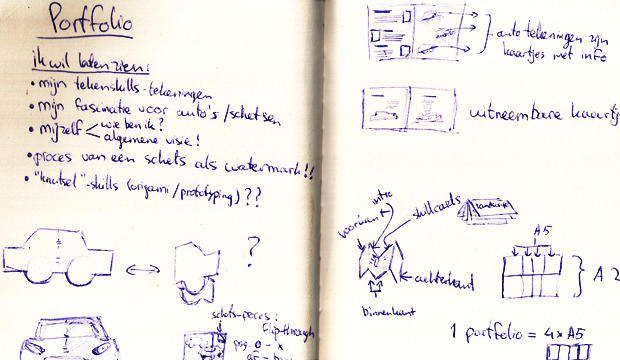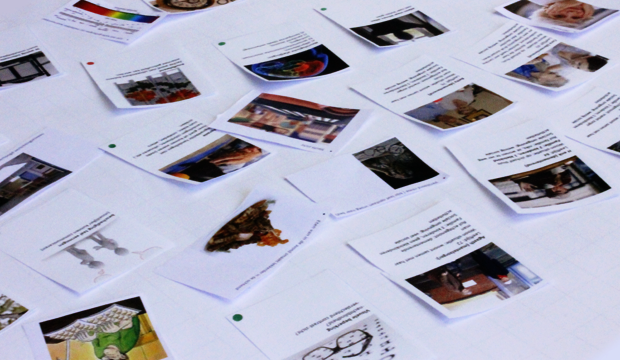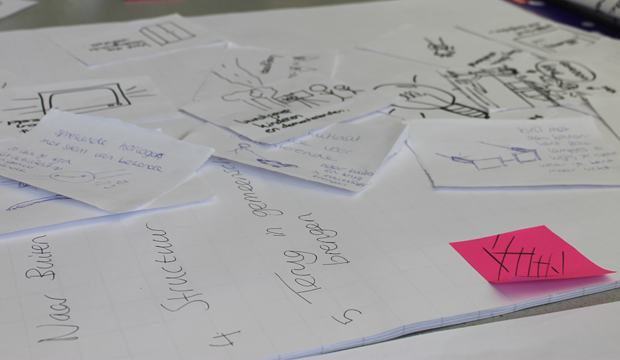 Ideas and Concepts
Through the course of the project, I found that I had difficulty coming up with ideas in team idea generation sessions. Though, by practicing and iterating idea generation methods, I found that I improved on this pretty much. When we were developing the concept, it required some idea generation as well. Here I felt more comfortable, as I saw the opportunities of the idea we already had. By performing idea generation every week for the assignment "Designing Visual Information", I iterated even more on the idea generation. But I had to get in the flow of ideation first. I found that when I applied some techniques for a creativity warming-up session before the ideation, it worked for me. I also learned that pressurizing the idea generation is not helpful. It would be too much focused on the result, which mostly leads to nothing. The planned idea generation session we did in the team was good in such a way that we took the time for making ideas, without stressing on results too much.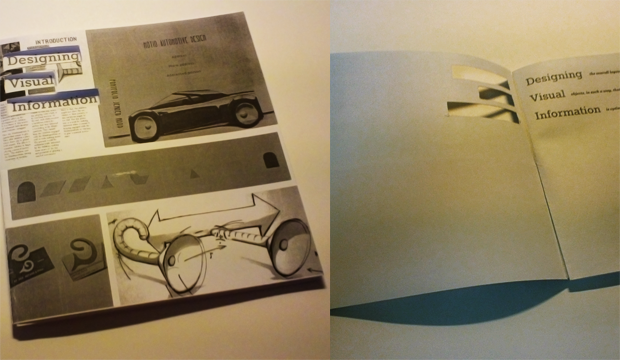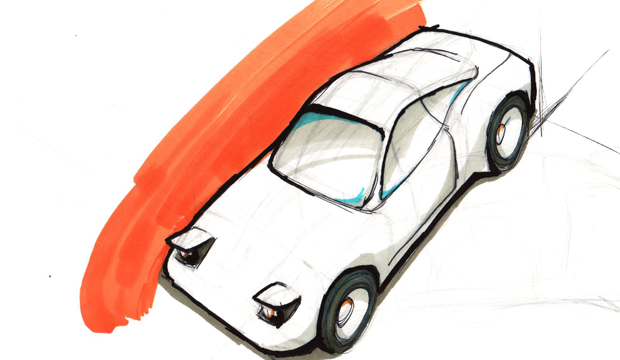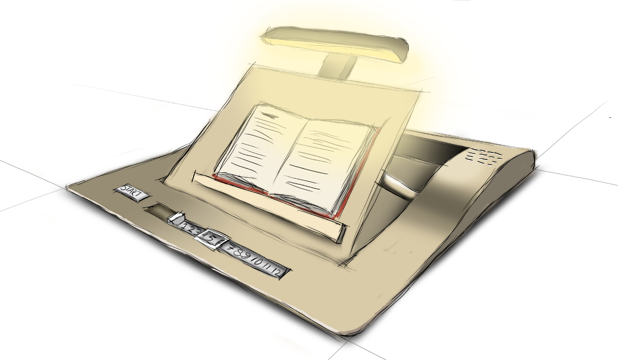 Form and Senses
Form and Senses was mostly covered in the assignment "Designing Visual Information", where I had to give form to the mockups of my ideas every time. But I also worked on my sketching skills, and I improved my perspective sketching and perspective sight by doing so. I found that I understand more how to put 3D shapes on a 2D surface by now. Besides that, I found during the project how the shape can influence the user experience, as for a certain interaction suits a certain look and feel. On my sketch the model looked thinner which was regarded a better design than the shape study, which had a different shape. In my sketch the model looked much flatter, and had a more elegant look and feel. I found out this way that the shape should fit its purpose, and should suit the interaction.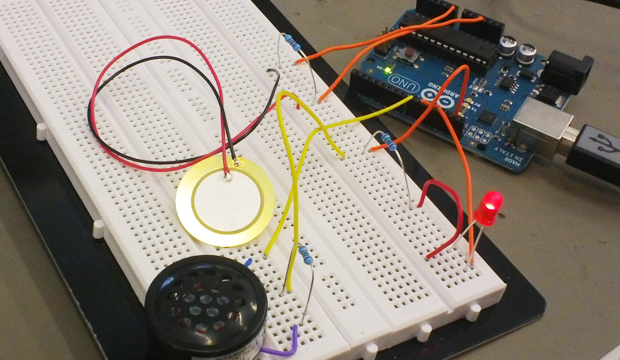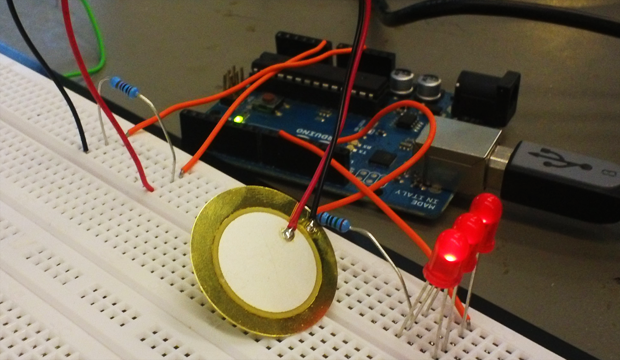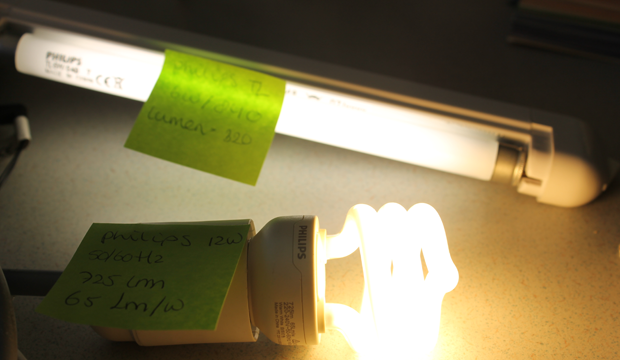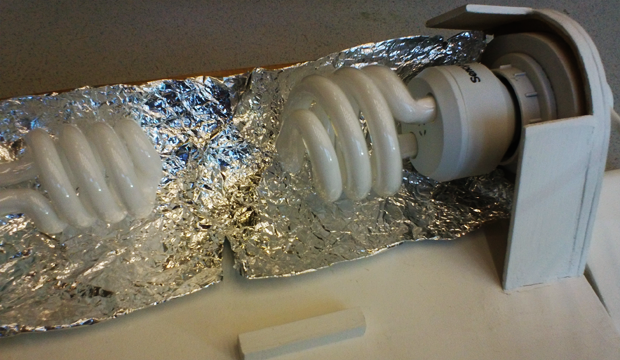 Integrating Technology
This semester I did not focus on Integrating Technology in the project. I did an Arduino workshop on working with sensors and actuators and an Arduino. I found the processing of the data pretty recognizable. And considering the knowledge I gained during last assignment "Introducing Electronics", I now think I am more ready to make technically functioning prototypes. Besides, I learned from the technology part in the project that it is also about what is feasible. Not just on the technology side, but also on the form factor and interaction-wise. Does the technology allow you to interact in some way or another? Does the technology fit in your shape? I also learned the value of benchmarking. What is already out there and how does it work? Can I make my design work like that?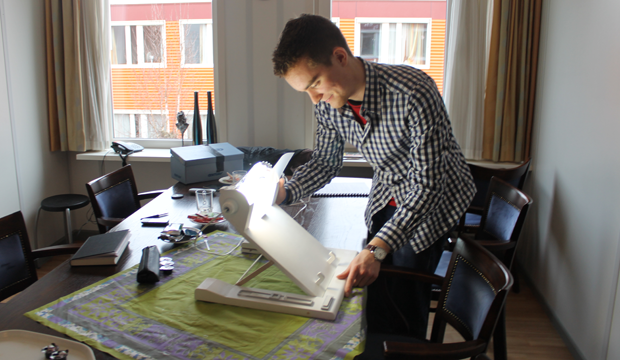 User Focus and Perspective
This competency area was part of my individual part of the project. I learned a lot from arranging a user test already. I got feedback on the setup I made and I learned 'the hard way' that arranging can be difficult if the target group is inaccessible for the outside world. What I found was that experts (in my case the care professionals) and people with experience on dementia (relatives of dementing people, other students/coaches of the project) were another great resource for answers. A user test takes time to arrange and to conduct, so if the same information can be gained by talking to experts it is more time efficient. In my case, it still was valuable to do a user test, since we wanted to find out how the product is seen through the eyes of a dementing person. But some things would not have to be tested, as I learned that experts are able to give valuable information about the target group as well.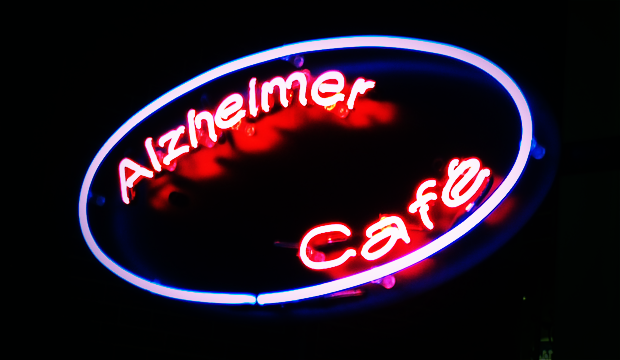 Sociocultural Awareness
During the project, I experienced a lot of development for this competency area. First of all, I had to learn to understand the situation a dementing person is in by empathizing. Then I had to learn how to interact with them, which is harder than empathizing. I learned from this specific case that as a young designer, one has to prove credibility for running the project, since you can be regarded as naïve or as an intruder. People have to believe you. On my first encounter with the target group, I found that they had the impression I was some sort of kid who wanted to make a product for them without having done research to their situation. But therefore one needs to first understand the situation of the target group, in order to show understanding to them. Showing you know what they are going through might help in making them understand your goal regarding to the project. I did not show that during this talking group, which resulted in a difficult situation for me as designer.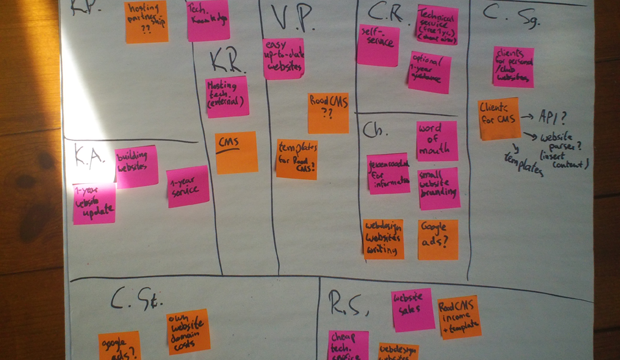 Designing Business Processes
For this competency area I already had a decent awareness, because of the assignment I did. But I only learned one method to look at making business models for designing a product. It would be more about the cost/benefit part of the product. This would be only applicable to the project to some extent. During the project I learned about some ways to integrate more into the business model, so it would more applicable to the project. Though, by making a 'regular' business model for myself as freelance web designer using the Business Model Canvas, I got more of an overview what actions I could take for improving my business. It also showed to me what my service already comprises and what my unique selling points are. I also learned some more about actually bringing a product to the market. I visited my coach in her design studio, where she explained how she is working on getting a product to the market. I learned that it is about having connections, but also about maintaining relations and contact with possible stakeholders. You have to convince them how your product is beneficial for them and why you would like to bring it to the market via them.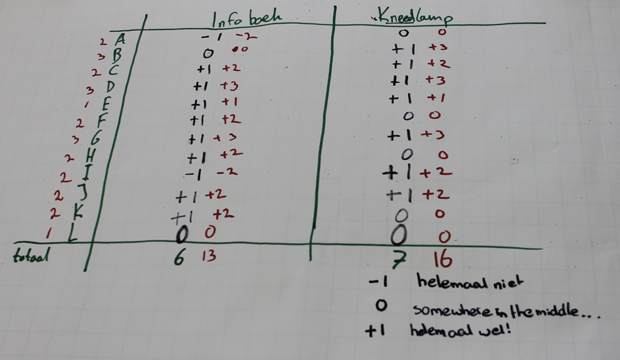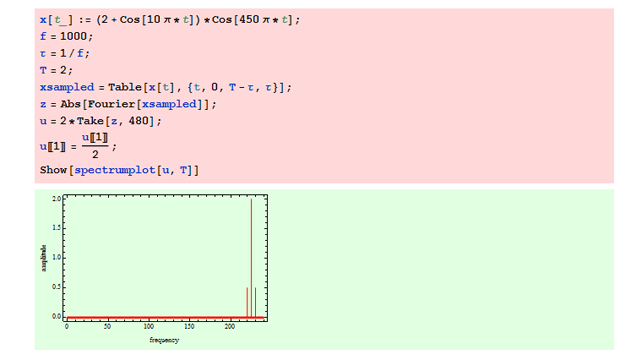 Descriptive and Mathematical Modeling
In the project, we did some descriptive modeling. It was part of the analysis of the problems and the research we had to connect. Getting a clear view on how the design problem looked like we analyzed the different aspects. Besides, we had to figure out what the requirements of the solution were, in order to define our concept better. Next to that, some things of the design process were pretty complex and hard to explain, but a good way to do so was descriptive modeling. The budget plan we made is an example of that. I also did an assignment for this competency area, where I mostly found that analyzing the exercises on the problems was relevant for this competency area. The way we had to apply math was part of the interpretation of the exercises, as we had to find out how to solve the exercises with the math rules we had to apply.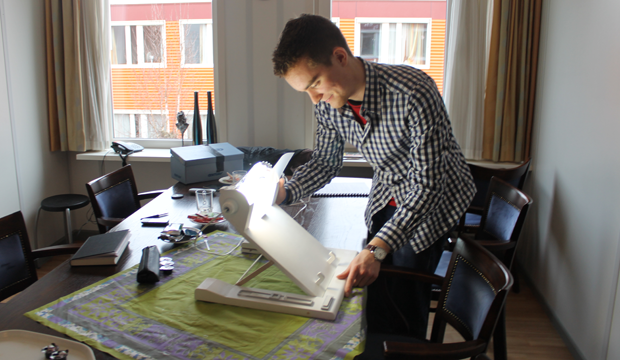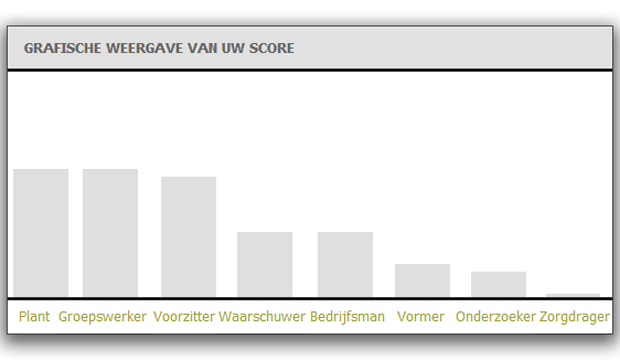 Teamwork and Communication
This competency area was an important part of the project this semester, but also for my PDP goals. I worked in a team, which required quite some communication. And for my PDP goals I had to develop myself in terms of assertiveness and proactivity. Choosing to become a team leader gave me a good chance to develop everything this way. I indeed became more proactive in terms of taking more initiative and having a different attitude to others. I was already pretty proactive, but the problem was that I did not show it so much. That made me look more passive than proactive. I also became more assertive, as I noticed I joined discussions more often and more prominent, which is an improvement compared to the start of this semester. My team role as a team leader was quite a rich learning activity, since I had to overview the communication and the tasks in the team and had to take responsibilities as a team leader, which I had never done before. Besides, we were all required to take an individual part in the process. This forced me to go after things on my own. I had to take more initiative, which was helpful for becoming more proactive as well.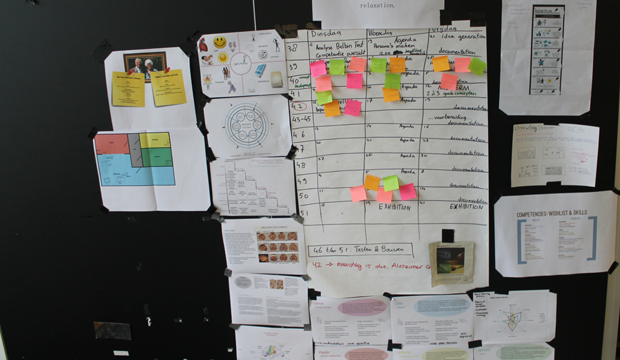 Design and Research Processes
The design process we walked through during this semester's project, started with a lot of researching. As I described in the project section that covered this competency area, I think that the research part was out of balance with the implementation part. We also did a lot of research without actually implementing it in the design process. I learned from this design process that sometimes it is better to take assumptions instead of doing research. Making design decisions is about having a clear vision on why you decided to make this decision. And this does not exclusively mean you have to do research, there are many possible reasons for taking decisions, as long as you can prove them right. But a product has to work after all, so research is still necessary to validate these decisions.
SDL activities
SDL activities
Visiting Dutch Design Week
Supervising at HTML workshop
Workshop "Sensors and Actuators"
DDM expert meeting
Coach visit at studio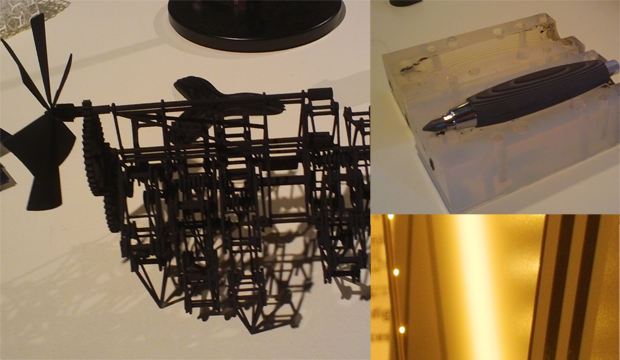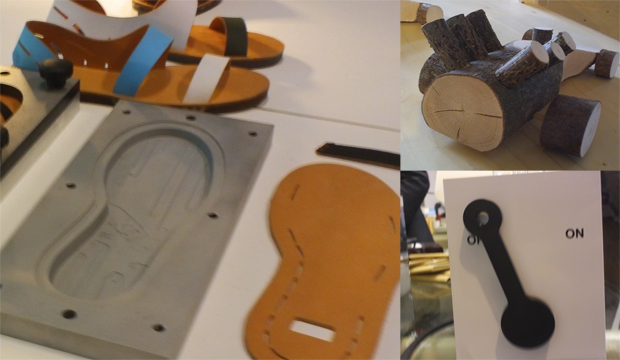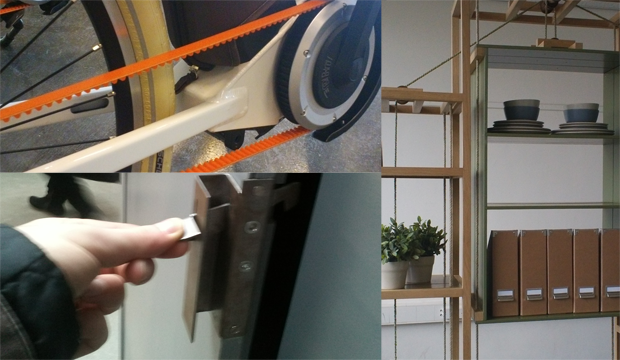 Visiting Dutch Design Week
Together with a friend of mine, I visited the Dutch Design Week. As Industrial Design students, we looked at the numerous participants with our own visions. Besides that, I enjoyed looking at designs from other designers and nifty solutions for specific problems. It gave me inspiration for changing my vision as well as gave me inspiration from the world of design. But mostly I discussed with my friend what we liked or disliked about a design that we saw at the Dutch Design Week. It shaped my vision as I look upon design right now. I took pictures of many design products for later inspiration.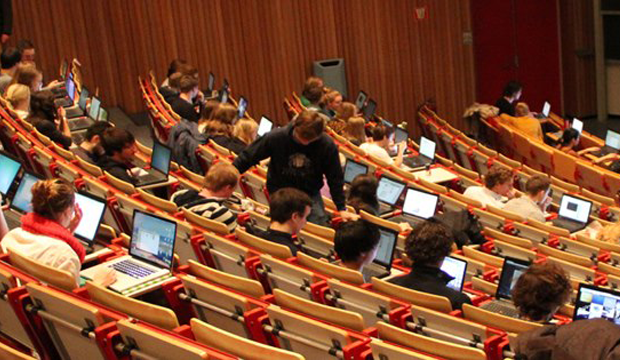 Supervising at HTML workshop
During the SDL weeks I used my web design skills for helping others during a HTML/CSS/Javascript workshop. It made me feel more confident about the skills I have, and I think I was doing pretty well helping people out when they were stuck during the workshop. The common mistakes that were made might be helpful to me in a different sense. I am able to filter many of the errors I make pretty fast, but now I also realize which errors might happen the most. This could be helpful in coding after all. Being stuck on errors, I can follow the main occurring errors that would be made, and perhaps work faster and more relaxed on the code. During the process of helping the participants out, I also had to dive into the situation they were in. This means that every time I had to find out what the problem was, as well as what the participants built so far. It required me to sort of empathize with the situation the participant was in.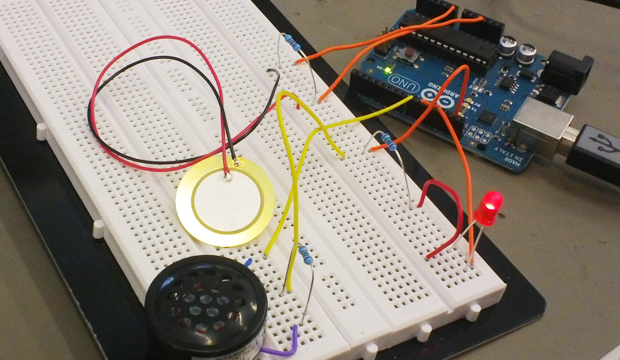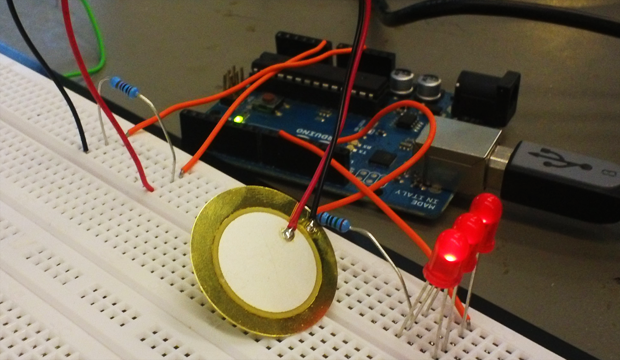 Workshop "Sensors and Actuators"
This workshop was about working with the arduino, and how to connect sensors and actuators to make an interactive system. I did a workshop on working with an Arduino before, but I found that many things I did not learn during that workshop were covered here. The goal to develop Integrating Technology during the workshop has been fulfilled slightly, as it gave me more insight in how to actually work with an Arduino. The coding syntax and semantics are known for me, which gives me some more confidence about working with an Arduino. But the functions are new to me, of which the most vital ones were cleared up for me during this workshop.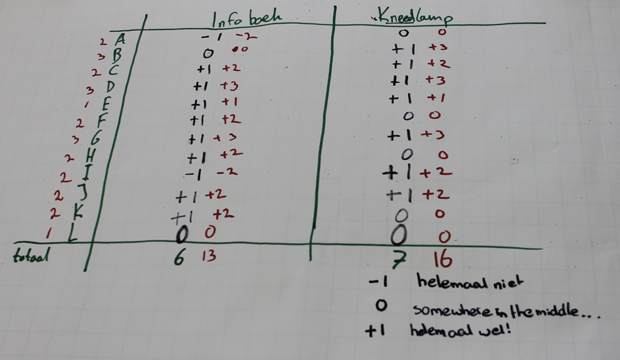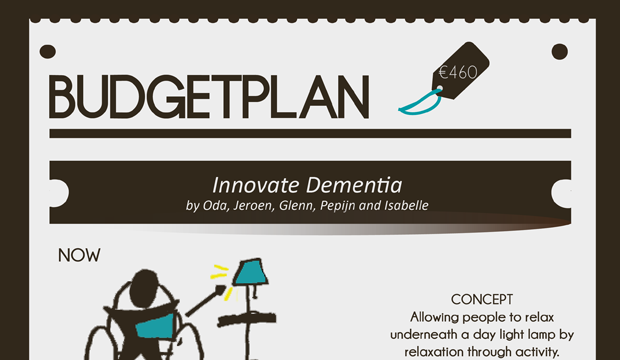 DDM expert meeting
We also had an expert meeting with Geert Langereis about Descriptive and Mathematical Modeling for our project. Together with my team, he discussed how we could use descriptive and/or mathematical modeling in our project. Here I found once more that this competency area is not only about finding complex systems and mathematical analysis of this, but also about how to describe sophisticated processes. He emphasized on the importance of images here. He explained that sometimes images say more than words or order the information in a better overview. A possible way to present much information to a client is an infographic, which shows the information better than a written text does.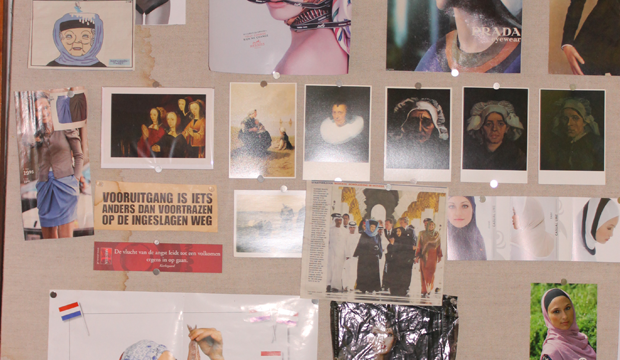 Coach visit at studio
During the SDL weeks I also visited the coach in her studio along with the team. She told us some more about how a design is actually brought into the market. From her stories and anecdotes I learned that it can be particularly hard to make a design successful on your own. Getting out there and taking initiative is of most importance. Having an idea where you want to go, as well as how you want to get publicity and getting your product to actual mass production are other main concerns. Here I realized how important it is to know your target group as well as how to reach them. These are also main concerns for making your design successful. During the assignment "Business Modeling", I learned how to make a business model based on the "Business Model Canvas", which shows some similarities with what I heard during the visit. It was really inspiring, which makes me more excited about expanding the web design business I have.
Extra Curricular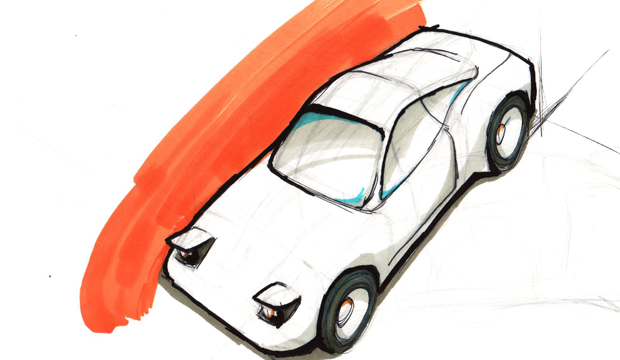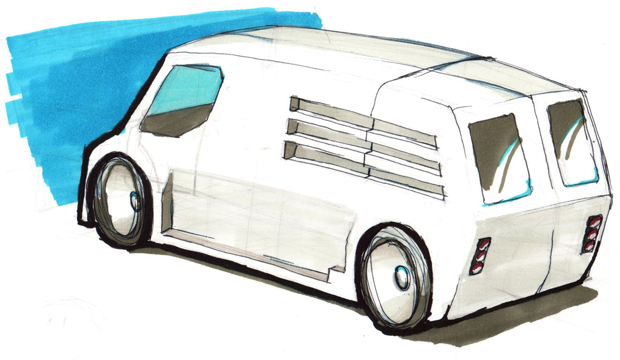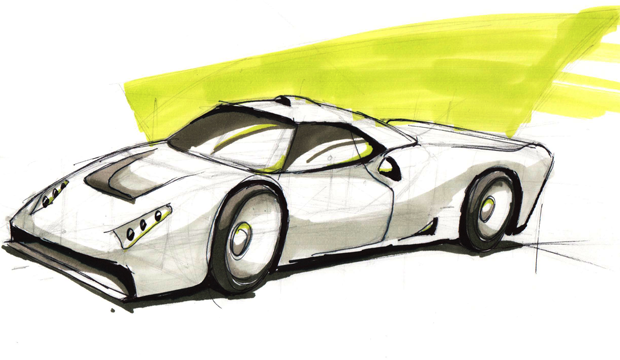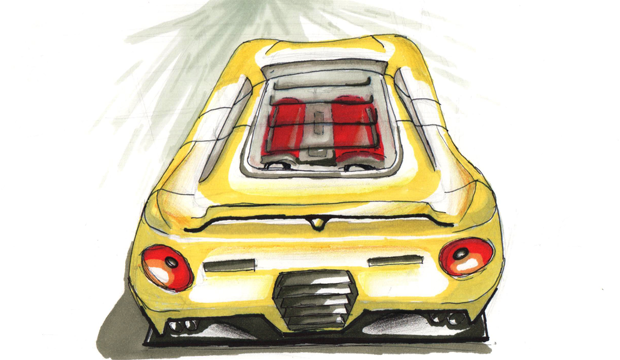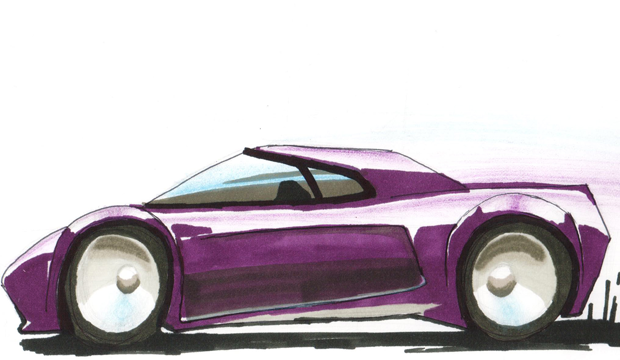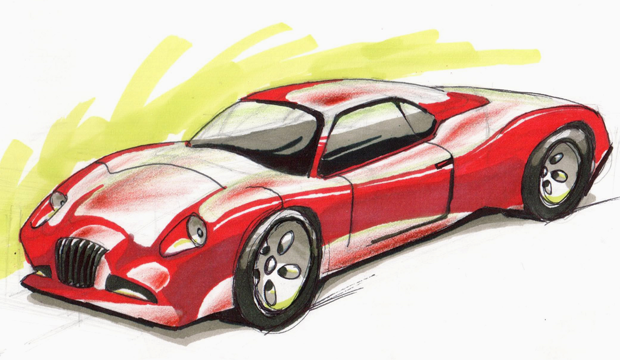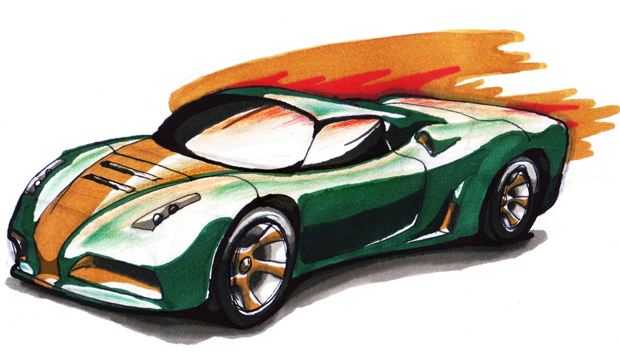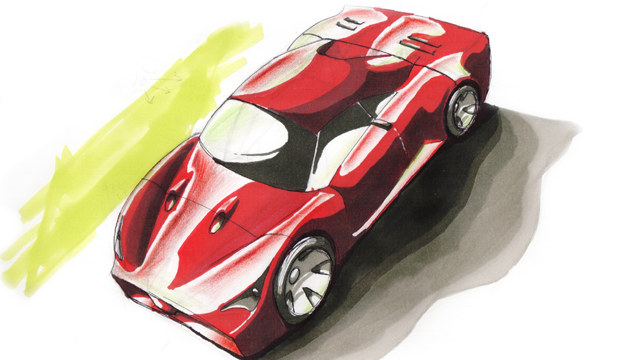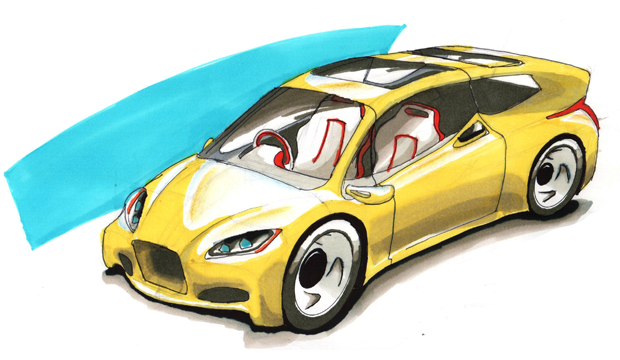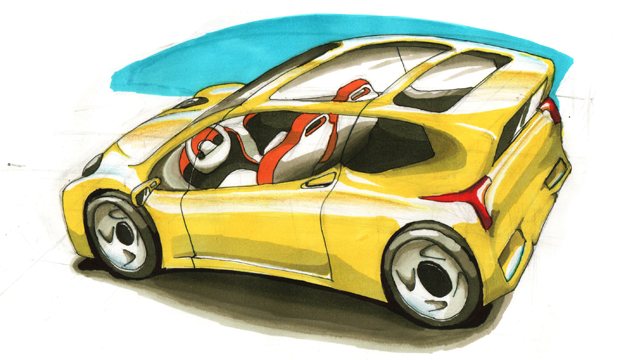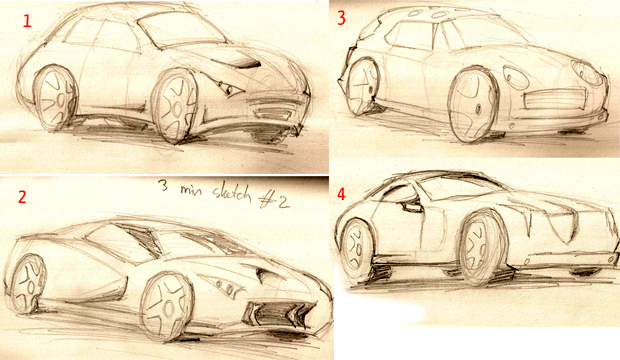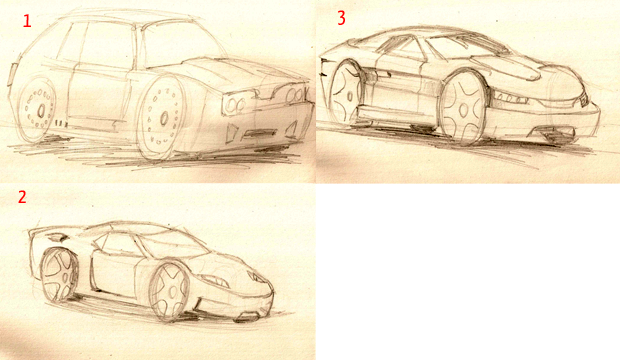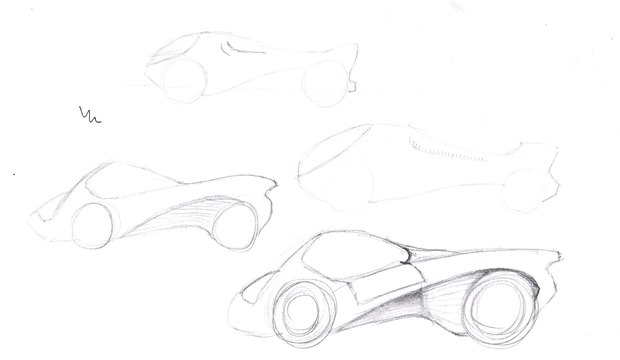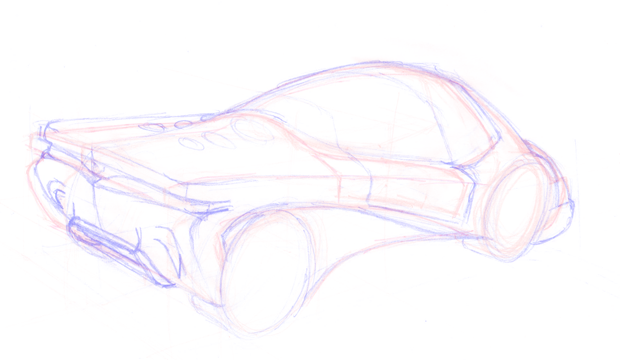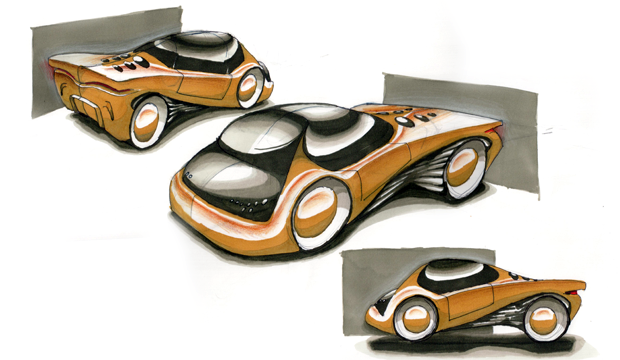 Improving my sketching skills
Throughout this semester I tried to improve my sketching skills, as I included this as a goal in my PDP. The aim was to improve my sketching skills in preparation for my internship. I would like to apply at an automotive design company, where I want to show off these skills. I worked on perspective sketching as well on adding expression. During the assignment "Designing Visual Information" there was given a small sketching workshop that gave me the startup boost for continuing this practice. I learned to work with design markers and got a better perspective view. I think I now have a better feeling on how to put 3D shapes on a 2D surface. Besides, I think I improved my car drawing skills, which I think is beneficial for applying for an internship at an automotive design company.
During this process, I gained feedback from Bart Hengeveld, my assignor for "Designing Visual Information", about my sketching technique. He told me to work more on perspective and the use of colors on the background. Furthermore, he advised me to look in car design magazines for inspiration as well as for insights on how to sketch. I also spoke to Lucian Reindl, a coach at Industrial Design, and he advised me to experiment more with shapes. I could for example start with a sideview, then taking it into perspective, and tracing this perspective sketch with an overlay sketch to correct certain lines or experiment more with the shape. All in all, I got a lot of feedback where I can learn from by practising. I also think these types of sketching apply better to automotive sketching, and that I develop my sketching techniques accordingly.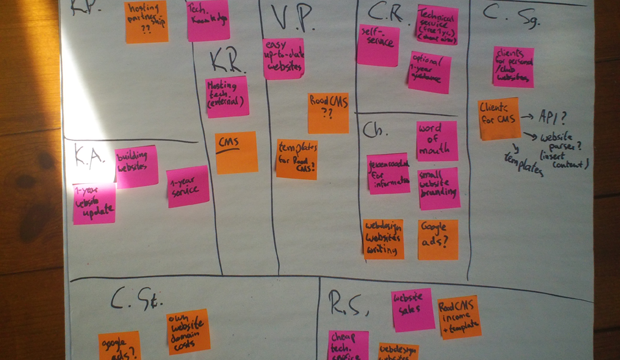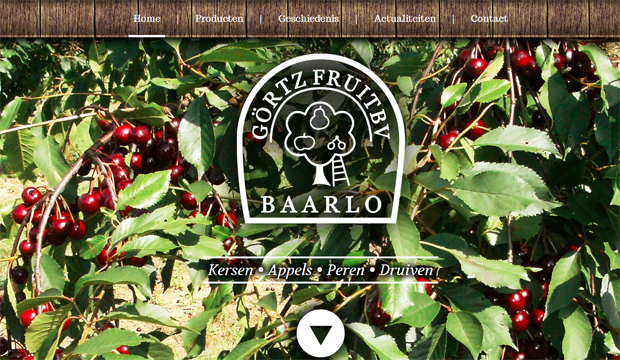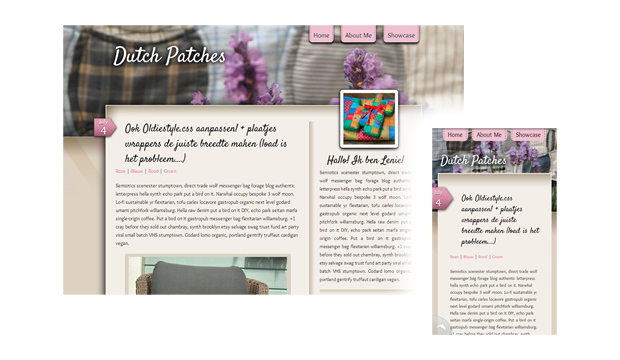 Web design
As I described in the introduction I am a freelance web designer on amateur basis. Throughout my studies I applied gained knowledge to my web design business. But in return, I also learn from experiences I have there. Mainly in Ideas and Concepts, Form and Senses, User Focus and Perspective and Designing Business Processes.
My web design experiences defined how I look on graphical design, as I created my own vision on this. The knowledge I gained during the assignment "Designing Visual Information" about composition and typography were helpful for my web design as well. While designing the website, I start with brainstorming about how I would order the information, what the website would look like and what information there has to be on the website.
Next to that I developed a business model based on the "Business Model Canvas" for finding out how I could improve my business, but also to get an overview on my service. This gives me an idea about how I could standardize my service and what my unique selling points are. I could relate this to stories I heard about previous experiences from my clients about other web designers. Sometimes there were bad practices which I knew I would have to avoid from then on. Some best practices for me already reflect from the business model, and show to me what my strengths are.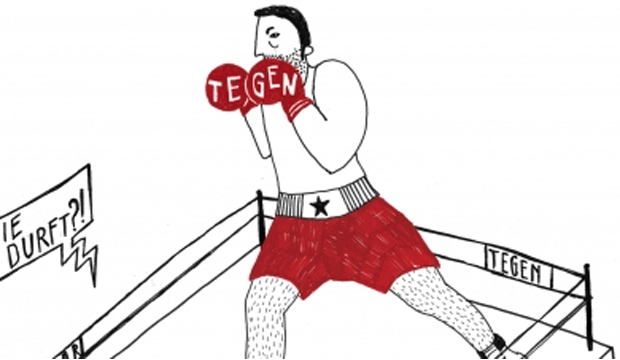 Workshop "Debatteren voor Beginners" (debating for beginners)
This semester I also participated in the workshop "Debatteren voor Beginners", organized by Studium Generale. It was about learning some tips and tricks in debating. I enjoyed this workshop, as it was really fast-paced, but quite instructive. Every week the participants were engaged into a debate, every time taking some tips and tricks in mind. What I found was that because of this workshop, I got more confidence in presenting as well as engaging discussions.
Through the course, I learned that I needed to think fast, adapt my reasoning to the opponents' problem visions, and speak to the opponents that doubt the most. I found this applicable to pitching a project, where one needs to adapt the presentation to the audience. My ease of talking and speaking improved because of iteratively debating throughout the session, but also my ability to anticipate fast in a conversation. I also learned some tips on how to recognize vicious attacks meant for disturbing your reasoning and how to overcome them.